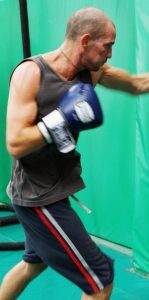 John Kostaras has a background in Functional Training, Kettlebells and Boxing. He started boxing at the age of 15 and competed until he was 27. Through highly-skilled coaches and AIS training sessions he attained several State Titles, Golden Gloves title and was to represent Tasmania for National Championships as a Welterweight. He is AIS Level 1 Coach accredited and completed several AIS training programs.
"Boxing training prepared me for almost any type of exercise – the only exceptions being gymnastics and yoga".
John will be helping Mischa coach boxers on Mondays, Wednesday and Saturdays as well as running a strength and conditioning session for fighters and various one off workshops and bootcamps.
You can find out more on his website: http://www.mesafitness.net